---
TITLE THIS


NOW VIEWABLE ON WEBSITE



Mark Kostabi's
cult status TV show,
TITLE THIS, a game show where art critics and celebrities compete to title Kostabi paintings for cash awards is now viewable anytime, online, at
www.titlethis.com
or
http://titlethis.blip.tv
. The site offers the latest episode plus a growing archive of past episodes. Participants have included: Molly Barnes, Luca Beatrice, Mark Bego, Andrea Bellini, Carly Berwick, Howard Bloom, Victor Bockris, Phyllis Braff, Lala Brooks, Stephanie Cash, Daniel Clowes, Ornette Coleman, David Coggins, Michelle Cone, Laura Cottingham, Ben Curtis, Adrian Dannatt, Nicole Davis, Liberty De Vitto, Sarah Douglas, Lavinia Filippi, Bonnie Fuller, Joe Fyfe, Benjamin Genocchio, Michel Gondry, Bob Guccione Jr., Gary Indiana, Alan Jones, Randy Jones, Glen Matlock, Jerry Marotta, Carlo McCormick, Taylor Mead, Sylvia Miles, Robert C. Morgan, Glenn O'Brien, Dennis Oppenheim, May Pang, Kembra Pfahler, Cay Sophie Rabinowitz, Tommy Ramone, Christian Rattemeyer, Joao Ribas, Walter Robinson, Suzanne Vega, Amei Wallach, Lilly Wei, Roman Klun, and John Zinsser. Title This continues to be viewable also on every Wednesday night at 8:30pm in Manhattan on Time Warner Cable on Channel 56, or on RCN on Channel 108, and on MNN's website every Wednesday night at 8:30pm (New York time) at
www.mnn.org
, Ch56.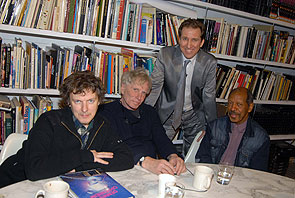 Photo: Derek Storm
---
CON ARTIST, THE MOVIE


Con Artist, a feature-length documentary about Mark Kostabi, has been receiving great reviews while playing at prestigious international film festivals, like Tribeca, Rome, Denver and the Hamptons. For upcoming screenings and links to reviews, go to:
http://conartistthemovie.co
m
---
INKIOSTRO
In conjunction with Kostabi's highly attended exhibition of 150 paintings at Rome's prestigious Chiostro del Bramante, Kostabi released a CD of music, titled InKiostro, on Fairylands Records, a collaboration with DJs Raz Noiz and Phella, and singer Julie Kogler.



Available via Internet at: http://www.fairylands.it/html/records.htm
---
MARK KOSTABI's third CD, New Alliance, Alinea Editrice.
---
MICHEL GONDRY, director of videos for Paul McCartney, Bjork, The Chemical Brothers, The White Stripes, as well as the award winning commercial, Levi's: Drugstore, and the movie starring Jim Carrey, Eternal Sunshine of the Spotless Mind, filmed a video for the The Willowz, at Kostabi World, featuring singer Richie James as a Christlike, paint-splattered artist who expressionistically enhances a Kostabi painting. Two songs by the Willowz, produced by Paul Kostabi (www.youthgonemad.com), appear on the soundtrack for Eternal Sunshine of the Spotless Mind, along with music by Beck, E.L.O. and Don Nelson.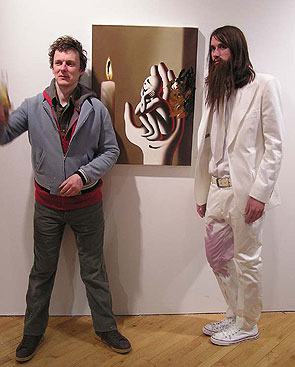 Director Michel Gondry and Richie James of The Willowz

---
Mark Kostabi photo by Ché Graham
---
KOSTABI'S NEW CD,


SONGS FOR SUMERA

,
IN STORES NOW

Mark Kostabi's second CD of original music, Songs for Sumera is available now in record stores or through Amazon.com. Amiata Records (distributed in the US by Ryko). Kostabi is one of the most famous and controversial artists to arise from the creative ferment of New York City's downtown scene where he operates his vast art studio, Kostabi World. He employs twenty assistants who execute his work which he signs and sells to private collectors and public institutions. His collectors include luminaries like Axl Rose, David Bowie, Bill Clinton, Debbie Harry, Pavarotti, Brooke Shields, Sylvester Stallone and institutions like the Museum of Modern Art, the Metropolitan Museum of Art and the Guggenheim.

Well known in the arts and popular press for his art and marketing genius, he is less known as the prolific concert pianist and composer which we now begin to see. With so many assistants making most of his visual artwork, Mark has had plenty of time to cultivate his unique musical sensibility, allowing him to deliver a disc of surprising invention, with occasional echoes of his modernist influences: Satie, Debussy, Ravel and Stravinsky. His first CD, I Did it Steinway, featured only works for solo piano. This ambitious follow-up is a collaboration with one of Estonia's greatest contemporary classical composers, Lepo Sumera, who orchestrated six of Kostabi's piano works which alternate with Kostabi himself performing five new piano compositions, totalling eleven.

New York City's well-known maverick conductor, Kristjan Jarvi, leader of Absolute Ensemble, conducts the Estonian National Symphony Orchestra in their performance of the six Sumera orchestrated pieces. Jarvi, Kostabi and Sumera are all Estonians. Sadly, Lepo Sumera passed away before this record was finished, so it is dedicated to him:





Songs for Sumera



For more information visit www.amiatamedia.com.
For more information about Kristjan Jarvi, visit www.absoluteensemble.com and www.kristjanjarvi.com.
---
COVER STORY
A large black and white Kostabi painting, Bridging the Gap, appears on the cover of the November, 2002 Italian Architectural Digest (AD). The issue features the homes of 16 Roman interiors, one of which is the home of Severino Fruscella, who owns the Kostabi cover painting.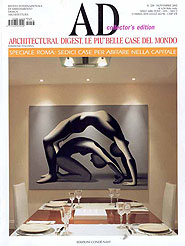 Architectural Digest

---


Photo by L'Osservatore Romano



Kostabi Bronze Statue of Pope Unveiled in Italy On September 22, 2007 Mark Kostabi met Pope Benedict XVI in Velletri, Italy at the inauguration of his bronze sculpture of Pope John Paul II, which was donated by the Provincia di Roma to Velletri, a city where many Popes throughout history have spent their formative years. At the inauguration, Pope Benedict XVI blessed the sculpture, which depicts 3 angels attached to the back of Pope John Paul II, creating the sensation that he is being brought towards heaven.

---
AVAILABLE NOW
"Mark Kostabi and The East Village Scene 1983-1987", photos and text by Baird Jones, forward by Enrico Baj. Published by Matteo Editore, Venice, 2002. 144 pages.
A unique record of New York's East Village art scene as it revolved around the contoversial painter, Mark Kostabi. Baird Jones, as a paparazzo and art critic for the East Village Eye, followed Kostabi around during the mid-80s when the East Village Neo-Expressionist movement was at its zenith. 196 of Jones' gritty photographs are matched with interviews and analysis to record the live wire enthusiasm of that time. The whole cast of lively downtown characters strut across these pages: from the art world's Andy Warhol, Jean-Michel Basquiat, and John Cage to a slumming Steve Martin, Paul Simon and Bianca Jagger. Kostabi's own ever grander expectations seem matched by the intense ambitions of his young peers which jump out from every photograph and quote.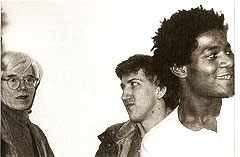 Andy Warhol, Mark Kostabi and Jean Michel Basquiat at Mary Boone Gallery, NYC 1986.

In 1983, the East Village art scene burst upon New York practically out of nowhere, and then a few years later, just as suddenly disappeared. No new wave of American artists has emerged to replace it. Despite this void, art historians and cultural analysts have neglected the Lower East Side movement almost as if it were an embarrassment. The few collectors seriously interested in the genre have focused almost exclusively on Basquiat and Haring. Hundreds of other "Loisaida" artists have been neglected. Retrospective exhibitions have been few and far between. Many of the artists featured in this book died prematurely leaving virtually no mark. Some have given up making art entirely despite receiving early adulation. Graffiti especially has declined so much that its practitioners often refer to it as the "G-word." "Mark Kostabi and The East Village Scene, 1983-1987" is one of the most comprehensive books devoted to the East Village art movement and includes troves of first hand information and anecdotes not found in any other publication.

Baird Jones is a graduate of the Buckley School, Groton School, School Year Abroad (Rennes, France) and Columbia College where he was a John Jay National Scholar. He has a Doctorate in Jurisprudence from NYU Law School, a Masters in Social Work from NYU Social Work School, a M.A. in Developmental Psychology from Columbia University and a M.A. in Computers and Education from Columbia University. For several years, Jones was a columnist at the New York Daily News. He has previously published "The Psychoanalysis of Sexual Humor" (N.Y.: Philosophical Library, 1987).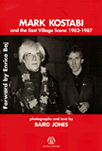 Mark Kostabi and The East Village Scene 1983-1987 photos and text by Baird Jones, forward by Enrico Baj.

(E-mail kostabiworld@yahoo.com)



---
The Galleria Nazionale d'Arte Moderna in Rome, Italy's most important museum of modern art, recently acquired Kostabi's epic 1996 painting, "Counter Intelligence" for it's permanent collection. Praised by art historian Sam Hunter, "Counter Intelligence" is reproduced on page 6 of "The Poetry of Silence", published by Jenkintown Press.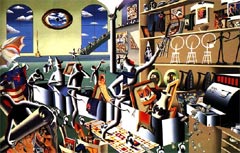 Counter Intelligence
---
The Neuberger Museum at Suny Purchase in Purchase, New York has recently acquired Mark Kostabi's "Upheaval" for its permanent collection. "Upheaval" 1984, oil on canvas, is published on page 213 of Kostabi: The Early Years.

---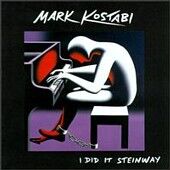 "I Did It Steinway"
---

---
Read MARK KOSTABI's
advice column for artists,
"Ask Mark Kostabi", at Artnet.com.
---
When in Manhattan watch MARK KOSTABI's cable TV show, "Title This " every Wednesday night at 8:30 on channel 56, or on the Internet through http://www.mnn.org/ .
---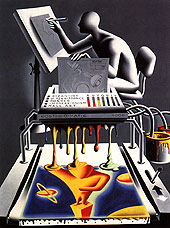 Automatic Painting


The famous oil on canvas, "Automatic Painting", just sold for $25,000.00. to J. Allard, a frequent eBay customer. $25,000.00 represents a new record for a 48 x 36 inch Kostabi painting. The highest publically known price paid for a Kostabi painting to date to date is $60,000.00 for "Gravity Fuels The Rocket To Inner Space" 1985, oil and enamel on canvas, 70 x 46 inches (see page 231 of Kostabi: The Early Years)
---
---
KOSTABI WORLD ADDRESS:
514 West 24th Street
New York, NY 10011map
(646) 649 3812